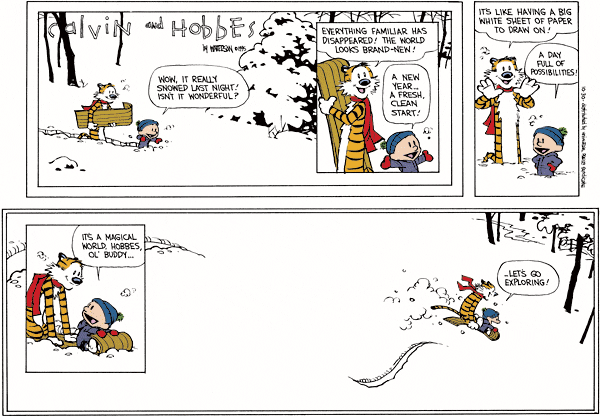 Thanks to everyone that came out to our little party last night, especially those that stuck around through the technical difficulties. Here's to a great 2008.
The final 'Calvin & Hobbes', 12/31/95
Here's the set from last night. Notice when it turned into a full-on 80s night:
Freezepop - Afterparty
Cassius - Toop Toop
Carbon/Silicon - What the Fuck
Of Montreal - Gronlandic Edit
Devo - Time Out For Fun
Art Brut - Modern Art
Shiny Toy Guns - The Weather Girl
Mission Giant - All in a Night's Work (new stuff)
The Smiths - Nowhere Fast
Die Totem Hosen - Brickfield Nights
REM - Radio Free Europe
The Faint - Desperate Guys
Depeche Mode - It's No Good
The Alarm - 68 Guns
Sparks - Mickey Mouse
David Bowie - Ashes to Ashes
U2 - Two Hearts Beat As One
New Order - Thieves Like Us
Duran Duran - The Reflex
The Police - Synchronicity II
Blondie - Hanging on the Telephone
XTC - Making Plans for Nigel
Yaz - Situation
Hall & Oates - Private Eyes
Cheap Trick - Surrender
David Bowie - Rebel Rebel
Queen - Don't Stop Me Now
The Smiths - Panic
Pulp - Common People
***HAPPY NEW YEAR!***
Kenny Loggins - Footloose
Blur - Girls & Boys
Journey - Don't Stop Believin'
ELO - Xanadu
A-ha - Take On Me
Joy Division - Love Will Tear Us Apart
Erasure - A Little Respect
Rick Springfield - Jessie's Girl
Billy Joel - You May Be Right
Sparks - Angst In My Pants
The Cure - In Between Days
The Smiths - This Charming Man
Supergrass - Alright
David Bowie - Let's Dance
The Pretenders - Brass in Pocket
Joy Division - Digital
Devo - Whip It
Pulp - Disco 2000
A Flock of Seagulls - Space Age Love Song
Blondie - Call Me
Cyndi Lauper - She Bop
Generation X - Dancing with Myself
Dexy's Midnight Runner - Come On Eileen
The Clash - Train In Vain
Michael Jackson - Beat It
INXS - Don't Change
Musical Youth - Pass the Dutchie
New Order - Ceremony
George Michael - Faith
Devo - Girl U Want
Dead or Alive - You Spin Me 'Round
Depeche Mode - Personal Jesus
The B-52s - Rock Lobster
Queen - Radio Ga Ga
I still managed to throw a couple of Britpop gems in there. We'll be back to our normal routine soon, maybe this Friday.