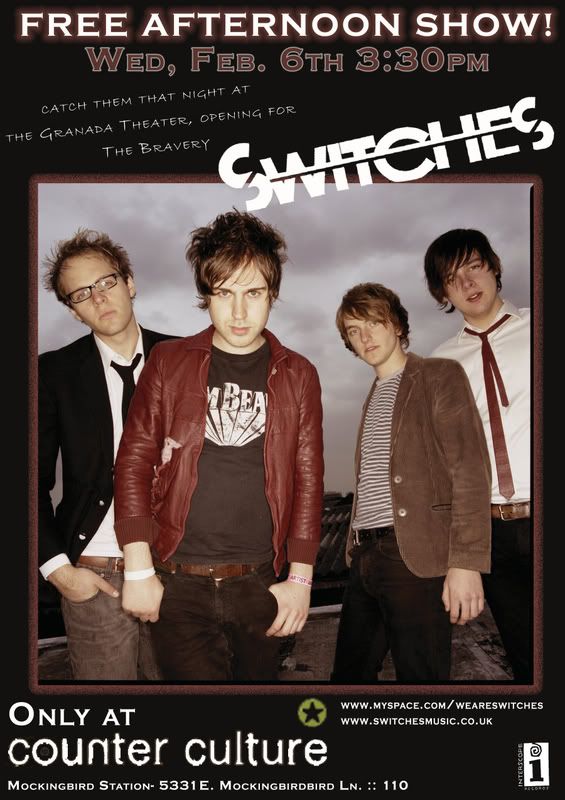 First off, you won't be seeing as many posts around here as you're accustomed to. I'm newly employed, so I won't be around my computer as much as I used to be.
Second, the lovely Leslie over at
Sell Her Suit
mentioned this free show with Switches on Wednesday afternoon at Counter Culture. I've already recommended Switches to you, so if you get a chance, go check it out. It'll be a bit Franz, a bit Supergrass, and a bit Teenage Fanclub.
Third, thanks to everyone that rocked FEVER last night. I showed up around 1am after the SFA show at Granada, and was blown away by the turnout. Cam didn't keep a playlist, but if you've been following for the last few weeks, I'm pretty sure you know what was played. I'll have my review of the Furries show up in the next day or two. I have a few things to say. Here's the rundown for the rest of the month:
FEB. 8 - Macho and MUDI in tag team action
FEB. 15 - Macho flies solo
FEB. 23 - No FEVER due to the
Melodica
festival. Get out and support this thing!
FEB. 29 - FEVER returns with Uncle Airyk's birthday party
Lastly, GO PATS!